Rachel Ware

Rachel Ware with John Darnielle in 1994

Years Active in The Mountain Goats

1991-1996, 2006, 2008-2009

Instruments

Bass, Vocals

Associated Acts
Rachel Ware is the former bassist of The Mountain Goats. She was also a member of the Bright Mountain Choir. Since her departure from the band in 1996, she has collaborated with the Mountain Goats a few times: playing bass for a one-off show in Claremont in 2006, singing backup vocals on the 2008 album Heretic Pride, and singing backup vocals for the DVD release of The Life of the World to Come in 2009.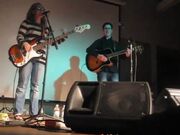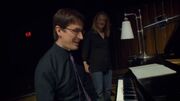 Discography
[
]
Appears on the following Mountain Goats releases:
Cassettes
[
]
Studio Albums
[
]
EPs and Singles
[
]
Compilation Appearances
[
]