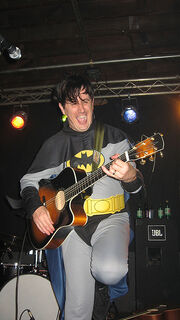 John Darnielle is a singer-songwriter most famous for being the primary member of the Mountain Goats, although he has also been a member of bands such as The Extra Lens and The Congress. He is married to Lalitree Darnielle.
In the Mountain Goats, John is the vocalist, guitarist, and sometimes pianist. He has been the only constant member of the Mountain Goats throughout their career, often the only member, and almost always the sole songwriter.
See Discography
See The Extra Lens#Discography
The Magnificent Bloody Hawaiians (1985)
Bastard Son (1986)
The Threegos (1994)
Whiskey, You're the Devil by Various Artists (1996) (vocals on "Just What I Needed" by Diskothi-Q)
The Life and Death of an American Fourtracker by John Vanderslice (2002) (writer, "Cool Purple Mist" and "Nikki Oh Nikki")
[unknown release] by The Wave Pictures (2003?) (vocals on "He Swims Like a Fish")
Pixel Revolt by John Vanderslice (2005) ("lyric editing")
Esopus Number 6 by Various Artists (2006) (vocals on "Systems Thinking Business Modelling Consultant" by Magnetophone)
None Shall Pass by Aesop Rock (2007) (vocals on "Coffee")
Cavalcade by Bellafea (2008) (vocals on "Depart (I Never Know You)")
Majesty Shredding by Superchunk (2010) (vocals on "Digging for Something" and cameo in the song's music video)
Thunder Thighs by Kimya Dawson (2011) (vocals on "Walk Like Thunder")
Black Sabbath's Master of Reality (2008)
Wolf in White Van (2014)
Universal Harvester (2017)
Devil House (2022)
Community content is available under
CC-BY-SA
unless otherwise noted.